November 5, 2021 - UPDATE - Road stripes, lane markings, and crosswalks have been painted. All road signs have been installed. ADA-compliant detectable warning fields have been installed. Project is COMPLETE except for some minor punch-list items and finalization of the moving of utilities and removal of old poles. 
September 24, 2021 - UPDATE - Surface paving of Oak Grove and Judkins Avenues has been completed.  It was necessary to wait for this work to be done prior to finishing the sidewalk paving and other project elements.  The tentative work schedule for the next week or two is as follows:
Monday, Sept. 27: Contractor making adjustments to previously placed sidewalk pavement to comply with Americans with Disability Act (ADA) rules.
Tuesday-Wednesday, Sept. 28-29: Contractor adding final sidewalk paving
Thursday, Sept. 30 or Friday, Oct. 1: Contractor painting road stripes, lane markings, and crosswalks.
Monday, October 4 or Tuesday, October 5: Contractor starting Detectable Warning Field installations.
Schedule is weather dependent and dates and work details may shift.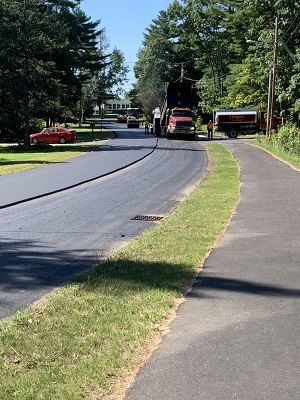 ---
July 23, 2021 - UPDATE - Completed paving of traffic islands:
Completed loam and mulch in memorial park area:
Completed road and sidewalk paving in memorial park area:
PLEASE NOTE: The project is not yet complete. Final paving of portions of the sidewalk and roads is yet to be done. Storm drains are at their final elevations so drainage during rainstorms will not function normally until final paving is complete. Residents, drivers, and pedestrians in the work area should expect to encounter puddles and poor drainage during rain events. Paving of portions of Oak Grove Avenue, Judkins Avenue, and Old Brunswick Road is expected to occur in the upcoming weeks, weather dependent. Final sidewalk and driveway apron paving will occur after road paving is completed. 
---
July 7, 2021 - UPDATE - Installed pair of Rectangular Rapid Flashing Beacons (RRFB) on Old Brunswick Road: 
Backed up slope behind sidewalk and installed 4" of loam on project:
Box cut remaining sections of Old Brunswick Road and Oak Grove intersection. Completed all curb installation (granite, asphalt, and concrete slipform). Finalized gravel and fine grading sidewalks within project limits. Continued paving work on sidewalks and driveways throughout project:
---
June 24, 2021 - UPDATE - Sidewalk surface paving continues:
Work on each Five Corners intersection has begun, including construction of new islands with granite curb:
Concrete foundations for flashing pedestrian beacons near Bath Middle School have been installed:
---
June 11, 2021 - UPDATE - Base paving for curb has been placed. Most slipform concrete curb has been installed. Sidewalk base gravel has been placed. Trench paving completed in Five Corners intersection (Lincoln/North/Congress/Oak Grove). New utility poles have been installed. Base paving of sidewalks has begun. Weather permitting, the project is on track to be completed by the end of July. 
---
May 14, 2021 - UPDATE - Most storm drain work has been completed:
Ledge removal continues for the remaining drainage:
Grading of the sidewalk sub-base and placement of asphalt base for curb and sidewalk has begun. Concrete curb placement will be done next:
---
April 28, 2021 - UPDATE - Installation of extensive storm drain improvements along Oak Grove and Judkins Avenues, as well as in and near the intersection of Oak Grove and Congress Avenues. This work will be completed in the next week. Following that, sidewalk construction will begin. 
---
April 9, 2021 - UPDATE - Contractor has marked out the area and sawcut the existing pavement for removal. Typical traffic control and lane closures will be in place when necessary. Tree removal completed at Crawford Drive/Oak Grove Avenue intersection, increasing drivers' sight distance and making it safer for pedestrians to cross Oak Grove Avenue.
The City of Bath applied for a grant from the Maine Department of Transportation in 2013 for funds to construct sidewalks on Oak Grove Avenue, Judkins Avenue, and Old Brunswick Road.  After a long design and review period, the project is finally coming to construction.  The work is expected to begin in early April 2021.  The project includes storm drain and sewer improvements, new sidewalks and crosswalks and a reconfiguration of the parking lot at the corner of Old Brunswick Road and Oak Grove Avenue.  The construction has been awarded to Pratt & Sons, a contractor from Mechanic Falls, Maine.  The City will be represented on the site by Gorrill Palmer Engineers, who also designed all of the improvements.  The work is expected to take approximately 3-5 months.
The public and nearby residents should expect occasional impacts to traffic flow, as well as dust and noise from the work.
Oak Grove - Judkins - Old Brunswick Sidewalk Project Plans
Oak Grove Sidewalk Plan - color.pdf 
Judkins - Old Brunswick Sidewalk Plan - color.pdf 
FMI:
For questions or comments during construction, the fastest way to get answers is to contact the City's field representative:
You can also call Bath Public Works for more information at (207) 443-8357, Monday - Friday, 6:30 a.m. - 2:30 p.m.
Would you like to be notified by email when a new Public Works project is listed? Sign up for our Email Alerts and check off "Public Works Projects" at the end of the form.
---
Update Log
A public meeting was held on Thursday, March 25, at 5:30 p.m. to present this project to residents. You can view a recording of this meeting by clicking here.