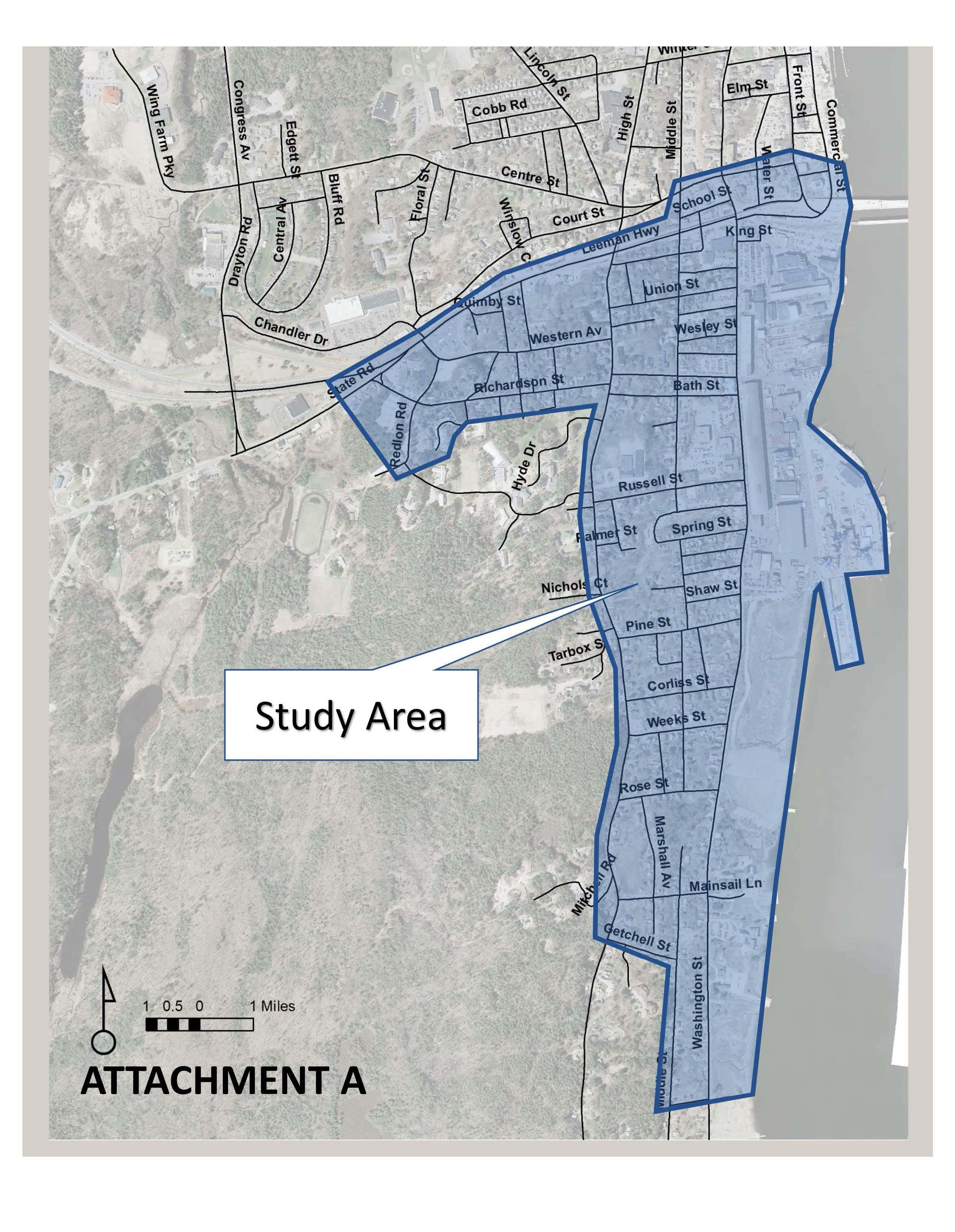 UPDATE 6/8/2002: We were stalled by the pandemic, but are currently working through the recommended changes in the final report. We will update this page when we have new information.
Final Report Released September 11, 2019.
South End Transportation Study Final Report
---
Sign up for Study Updates HERE
Bath's South End Transportation Study
Background:
The City of Bath is partnering with Bath Iron Works and the Maine Department of Transportation to find ways to reduce conflicts between vehicles and pedestrians in Bath's South End neighborhood.
This transportation study is a response to changes in traffic patterns associated with the shipyard's workforce, creating large volumes of vehicles coming and going, increasing pressures on parking, and contributing to vehicle speeds not in line with\pedestrian-friendly neighborhoods.
The study will focus on three key objectives: improving the safety of pedestrians, reducing the impact of vehicular traffic on neighborhood streets, and identifying strategies that will improve the availability of parking and/or reduce parking demand.
A significant number of pedestrians walk along the Washington Street corridor and between off-site BIW parking and the main productions area. This has led to conflicts between the needs of pedestrians and those of motor vehicles.
The need for more parking has been accelerated by new development in Bath's Historic Downtown, as previous parking lots have transitioned into new uses.
Challenges:
Data will be collected to find methods to address the following challenges:
How can motor vehicle movements be made safer and more efficient? The study will assess potential changes in infrastructure and city policies.
What opportunities exist to create additional parking?
What is the best way to create a balance between neighborhoods and employee parking needs?
Public Input:
Hearing residents' concerns and ideas is an important part of the study.
The first public meeting was held September 20 at Bath City Hall. This meeting provided an opportunity to hear an overview of the study, air residents' concerns and answer questions. Public Meeting Presentation  |  Public Meeting Notes from Sept 20 Meeting
A second public meeting took place on January 31 at Bath City Hall where recommendations from the consultant were presented. The public input collected at this meeting will be used to determine a course of action for the project. Public Meeting Presentation | Public Meeting Notes from Jan 31 Meeting
Residents who would like to receive email updates and meeting notices can sign up here.
Study Data:
Not everyone is familiar with the information needed to identify solutions in a transportation study. Below are examples of data that will be gathered and updated:
Intersection turning movement counts
Traffic counts
Bicycle and pedestrian volumes
Truck volumes and patterns
Geometric roadway conditions including width
Transit and BIW vans and buses
On and off street parking supply and regulations
Current business types and other non-single family uses and their locations
Seasonal traffic volume information
Public right of way information
Speed data
Crash data for the most recent three-year period
Parking capacity in areas not identified by parking signage
Regulatory signage and pavement markings
Sidewalks and crosswalks (including ADA compliance, material, condition and width)
Bicycle facilities
Traffic signal equipment, phasing and timing