For nearly two hundred years Bath has developed as a city where people can travel between most of their daily activities by foot power. Investing in and maintaining infrastructure for pedestrians and cyclists sustains one of Bath's enduring qualities. Providing a safe environment in which people may bike and walk—and encouraging them to do so will have economic, environmental, health, and social benefits to the city and its residents.
The Bath Bicycle and Pedestrian Plan was completed in March of 2011. The Plan was developed by planning consultant Katrina Van Dusen along with help from Leah Wang, a Bowdoin College intern, plus advice from the Bicycle and Pedestrian Committee, and with the assistance of the Bath Planning & Development Department.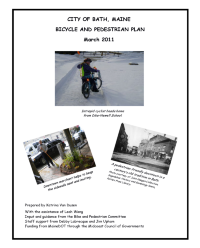 The City of Bath, through the leadership of the Bike and Pedestrian Committee, Planning and Development Department, and Public Works Department, consistently looks to improve the conditions that make Bath a place to walk and bike. To that end, the City has adopted a  Complete Streets Policy (2021)  to ensure that improvements to our transportation system and designed and implemented for all users.  The National Complete Streets Coalition has put together a great presentation that outlines the what, why, and how of a complete street. You can review it here. In short, the policy makes sure that city staff, advocates, and designers are all on the 'same page' about how we should be designing and using our streets.
The Maine Department of Transportation also has a Complete Streets Policy, which guides decision makers to consider all types of users within Maine's transportation system.  The MDOT policy is available here.
Through the use of federal and state transportation enhancement funds, sidewalks, multi-use paths, and crosswalks have been added to the city's non-vehicular infrastructure inventory.
Inter-City Improvements
In 2004, a feasibility study was commissioned by the City of Bath and the Town of Brunswick to identify the best route for a future connection of the existing Androscoggin Trail to Bath and the Kennebec River. Future engineering and construction efforts will follow the guidance of this feasibility study, implementing the trail as funding and capacity allow.